The Rise of MagSafe Cases and Other MagSafe Accessories for New iPhones
Oct 4, 2021
You may have heard about MagSafe technology. Still, if you haven't bought a new iPhone in a while, you probably need more information to decide whether MagSafe chargers, cases, and other accessories are worth it. Here is everything you need to know to make an informed decision about this technology and accessorizing your new iPhone.
What Is MagSafe and What Are MagSafe Cases?
MagSafe was once a wired charging technology with a magnetic breakaway connection to prevent damage to MacBooks. Apple now uses the name for its latest evolution in wireless technology. A series of magnets, magnetic shields, and charging coil allow for faster wireless charging without damaging the phone—or your credit cards or hotel room keys. The NFC (near field communication) antenna also allows the iPhone to recognize what type of accessory is attached and respond accordingly.

When Apple first introduced the new MagSafe for iPhone 12 models, there was limited time for manufacturers to develop cases with a built-in MagSafe connection. Even though some of the cases seemed to work okay with Magsafe, they weren't designed with built-in magnets to create a reliable connection. As a result, charging times suffered and the phone was difficult to use and remove.

Things have changed with the launch of the new iPhone 13 series. More consumers are hearing about this technology, as well as the differences between smartphone accessories that are merely MagSafe compatible and those that are made for MagSafe.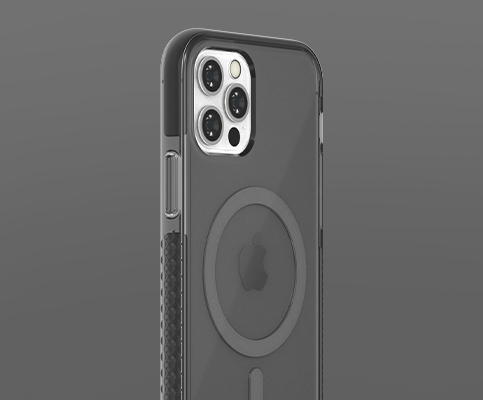 MagSafe Charging Times
The magnetic connection created by newer iPhones and MagSafe chargers has charging output capacities of 15W, twice as much as the 7.5W achieved by standard Qi wireless chargers. Many real-world tests confirm that with a secure MagSafe connection, the iPhone charges at least twice as fast as standard wireless charging.

According to World Today News, after 30 minutes of MagSafe charging, the iPhone 12 reached 32% and 27% with 20W and 18W chargers, respectively. This is compared to only 14% achieved by standard Qi wireless charging, a notoriously finicky technology where the phone may hardly charge at all if the position isn't just right. MagSafe isn't as fast as high-speed charging with a cable, where the phone reaches up to a 59% charge in 30 minutes, but it's close to the speeds achieved by 10W phone chargers.

Simply put, you get the convenience of wireless charging along with reasonable and reliable charging times. Better yet, with a MagSafe case, you can get wireless charging efficiency without having to remove the case or struggle taking the phone on and off the charger.
The Future of Magsafe and Magsafe Cases
Like so many things about the new iPhone release, we don't know if the device will have substantive upgrades to its MagSafe hardware. Even if there are no changes, it seems rather certain there will be a greater adoption of Apple's MagSafe technology. For one thing, this wireless technology can be used for Apple Watches and AirPods, not just iPhones.

People are also using their phones in more power-hungry ways than ever. Along with the usual suspects like background apps and push notifications, people are doing more mobile gaming and using more 5G connectivity. They are looking for convenient charging and other smartphone solutions at home, in the car, and on the go. MagSafe technology is giving rise to an entirely new ecosystem of iPhone accessories that can only be used to their full potential with a MagSafe case.

It may not be the MagSafe charger that persuades people to adopt this wireless charging technology. It may be the MagSafe battery pack that lets you keep using your iPhone while also charging it wirelessly—not to mention MagSafe car mounts, snap-on wallets, and other accessories that are in the works.
Plan to Accessorize Your iPhone 13 with MagSafe
You may not know exactly what MagSafe accessories you want to get. That's what the holiday shopping season is for! But without a case that is fully integrated with MagSafe technology, you may be disappointed in the results. Create a foundation for integrated MagSafe accessories with the Ace Pro MagSafe from BodyGuardz.