This National Teacher Appreciation Day, We're Thanking Teachers for All They Did in 2020
May 4, 2021
To say the last 14 months have been like nothing we've ever seen before would be quite the understatement. COVID-19 spread like wildfire across the world, causing a huge ripple effect and disrupting virtually every aspect of everyday life. Seemingly overnight, millions lost their jobs, while countless others had to completely change the way they worked. Vacations were cancelled, holidays were celebrated over Zoom, and schools everywhere suddenly shut down.

When schools were finally able to re-open, everything was different. Most facilities were closed and extracurricular activities cancelled. Teachers—many of whom were spread thin to begin with—were forced to adapt on the fly, learning how to teach their students virtually. And when the 2020–2021 school year began after a strange and uncertain summer, circumstances weren't much better. Most schools started the year either fully remote or using a hybrid model, and of those schools that did start fully in-person, most were remote or hybrid before long.

Doctors, nurses, first responders, delivery drivers, grocery store employees, and other frontline workers are considered to be heroes of the pandemic. They put their health on the line every day to keep the rest of us safe and fully stocked with the essentials we need to survive. But in what's been the most trying year in recent history, teachers have stayed the course. They've had to completely change their approach to educating. Yet, they've continued to teach, challenge, nurture, comfort, and mentor our children—much of which they've been forced to do remotely, often while teaching to a sea of black screens.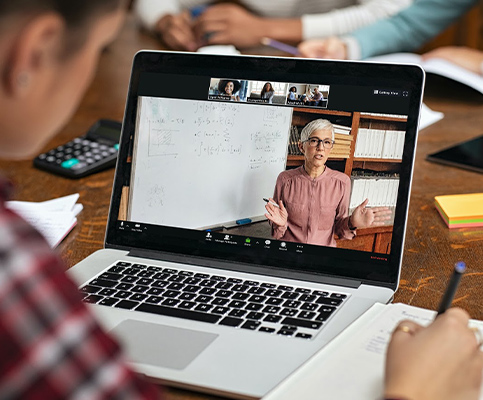 In 2020, Pencil Shortages Were the Least of a Teacher's Worries
It takes a special kind of person to be a teacher. The good ones are experts at managing relationships with countless students and parents, some of whom are more difficult than others—all while navigating the trials and tribulations of supply shortages, budgetary constraints, lesson planning, and more. Being an effective, impactful teacher is never easy. But a good teacher can change a child's life.

Unfortunately, one of the aspects of teaching most affected by 2020 has been a teacher's ability to bond with their students. After all, connecting with someone wearing a mask is a challenge, but connecting with students virtually is even harder—especially when those students keep their webcams off and their microphones muted.

But that's just the beginning … remote and hybrid learning has meant teachers and students alike are being forced to learn new technology on the fly. According to Education Week, 31% of teachers reported substantial challenges with instruction, 27% reported trouble dealing with families, and 20% reported ongoing technological issues. When combined with the numbers of students from mostly low-income families without regular and reliable internet access, these findings shine a light on some of the most significant challenges and limitations that come with remote learning.
Teachers Can't Care for Others if They Struggle to Care for Themselves
First and foremost, ask teachers if they're okay. Let them know you appreciate all they do (and all they've been doing) during the pandemic and before. Teaching can be a pretty thankless job—especially when dealing with challenging students and difficult parents, on top of the new obstacles presented by the pandemic—so a little appreciation can go a long way. But actions speak louder than words. Your best bet may be to show them your appreciation.

If there's anything 2020 taught us, it's that you always have to be prepared for any challenges life may throw at you. That's why, in honor of National Teacher Appreciation Day, we're giving all educators 15% off the BodyGuardz Portable 5-in-1 Emergency Hub. (Simply use the code TEACHER15 when checking out.) Designed with five emergency essentials in one smart device, the Emergency Hub features a portable power bank, customizable emergency alerts, a night light/flashlight, a one-touch siren and alert system, and emergency FM radio. The 5-in-1 is a game-changer in emergency preparedness. The knowledge that it's plugged in and ready to go at a moment's notice will give you peace of mind, and maybe even help you sleep a little easier at night.

With the vaccine rollout ramping up around the country, it's easier than it's been in a long time to see light at the end of the tunnel. With life inching closer to something resembling normalcy, and with schools (hopefully) resuming as close to normal as possible in the fall, let's make sure we show all the teachers we love how much we appreciate everything they do—not just on National Teacher Appreciation Day, but all year long.