BodyGuardz Podium AirPods Case Wins Red Dot Award
Apr 14, 2021
The innovative Podium AirPods case from BodyGuardz recently won the Red Dot Award for product design. Red Dot independently appraises the best of the best in design and business with a strict judging criterion that includes Functionality, Ergonomics, Durability, Ecological Compatibility, Degree of Innovation, and more.

Hailed internationally as one of the most sought-after marks of good quality and great design, the Red Dot Award is a nod to the innovation of the Podium AirPods case.
Protecting AirPods with Sustainable Style
The Podium case offers consumers a sustainable alternative to traditional AirPods case designs. Crafted from 100% sustainable materials including bioplastics, wood, and aluminum, Podium cushions AirPods and offers 360° drop protection. With a patent-pending pivot latch, a flat bottom to stand unassisted, and an easy, one-handed open, Podium specifically addresses and mitigates the pain points AirPods users traditionally face.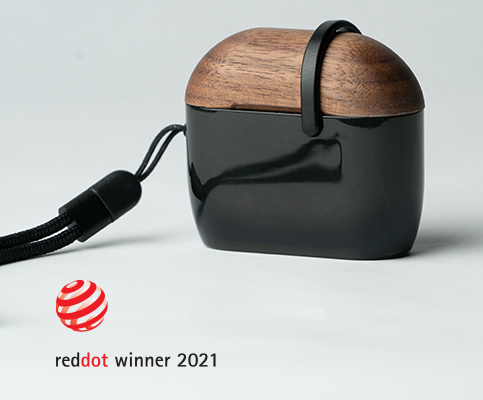 How the Podium AirPods Case Exemplifies the Red Dot Award
Red Dot seeks products that defy current trends, addresses consumer wants and wishes, and elevates overall expectations. Podium performs and delivers—offering more than a traditional AirPods case with a minimalistic elegance that expertly merges form, function, and sustainability.

In addition to its refined design, Podium affords customers a layer of PureGuard® antimicrobial product protection for a greater sense of cleanliness. Podium is wireless-charging compatible and features a convenient wrist lanyard crafted from Repreve® recycled ocean plastics. The Podium AirPods case also protects against slips, drops, and falls with a unique case designed to stay closed on impact.
BodyGuardz is a Leader in Device Protection
Founded in 2002, BodyGuardz has evolved from a small line of screen protectors to a worldwide brand offering unbeatable mobile device protection. Committed to providing superior quality and sustainability, BodyGuardz innovative products, like Podium, are designed to provide cutting-edge, customer-focused solutions.