Shop Smart This Father's Day: Top Tech Gifts for Dad He'll Have to See to Believe
Jun 11, 2021
Somehow, someway, it's already June of 2021. Which means that Father's Day is just around the corner. It's been a long, hard year for all of us, including dads, but if there's something we've learned from all the challenges we've faced, it's the importance of always being ready for anything—and that you can't put a price tag on peace of mind. Unfortunately, with so much uncertainty, peace of mind can still be hard to come by.

So how do you plan to show all the important fathers in your life how much you appreciate them this year? One tried-and-true method from BodyGuardz is to take advantage of our premium cases and screen protectors, especially for the dad who's getting a new smartphone for Father's Day. There is no dad-bod when it comes to our slim and strong phone protection accessories.

That said, we're adding a new option this year. For the dad who values safety and peace of mind especially when they can't be home with the family, a BodyGuardz Smart Home device (or two) may be just what the doctor ordered.
BodyGuardz Smart Home Devices: The Smarter the Home, the Smarter the Life
BodyGuardz Smart Home devices were developed to make peace of mind an everyday feeling again. The Portable 5-in-1 Emergency Hub—our flagship smart home device—is a game-changer in emergency preparedness. Designed with five emergency essentials in one device, the Emergency Hub features customizable emergency notifications, one-touch alert + siren, a built-in flashlight, and more. No matter the emergency, from widespread power outages to dangerous storms, the 5-in-1 is always ready for anything. But the best part? The 5-in-1 isn't just for use during an emergency—the built-in night light provides everyday illumination in dark rooms, while the plug-in power bank makes it easy to keep your favorite devices charged and ready to go at all times.

Looking for another tech gift for dad that he's guaranteed to love? Look no further than the BodyGuardz Portable 360° Security Camera. Set to be released soon, it's unlike any other home security camera on the market today. For starters, the 360° Camera operates wirelessly with no installation required, making it easy to grab and take with you on the go. Plus, with its 360° field of view, dad will enjoy unmatched visibility, whether he's keeping a watchful eye on his family or his stuff. The tech-savvy dad will love this camera's combination of features, while every dad can appreciate the installation-free set up.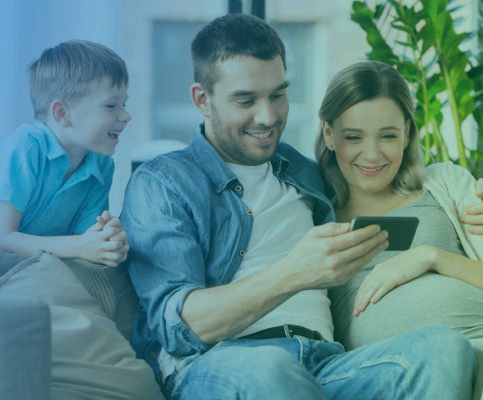 BodyGuardz Cases and Screen Protectors: Unequal Protection for Everyday Devices
The home isn't the only thing that needs protecting. If you have it on good authority that dad may be getting the latest and greatest smartphone for Father's Day—or even if he's had the same smartphone for a while now—helping dad protect his tech from unexpected damage is crucial.

Cases are absolutely essential accessories for every smartphone owner. In fact, a good case may mean the difference between protecting dad's smartphone until it's due for an upgrade or being forced to shell out boatloads of cash to replace a broken phone too early. A premium smartphone case—like the Ace Pro®—made with Unequal® shock-absorbing technology is proven to protect dad's phone from the drops, falls, nicks, and scratches that are part of everyday life.

When it comes to protecting your screen, a tempered-glass screen protector is often the last line of defense between your phone's screen and the ground, and no phone should ever leave home without one. But that's just scratching the surface—many BodyGuardz screen protectors boast additional enhancements to set them apart from the rest. Some filter out blue light, while others protect your data from prying eyes by making it impossible to see your screen from the side. Our latest line of screen protectors also feature Ultra-Fresh antimicrobial coating, which reduces up to 99% of bacteria growth on the surface of your case or screen protector.
Let's Show the Dads in Our Lives How Much We Appreciate Them This Father's Day
A man's home is his castle, while a man's phone is his way of staying in touch when it matters most. Don't get just any tech gift for dad this Father's Day … give him something that really matters. Give him the gift of more time lounging poolside, more time to play 18 holes, more time to live life to the fullest without having to worry so much about protecting his phone, or the safety of the ones he loves most. Give dad the gift of peace of mind—whether it's protection for his phone or the entire family.