Why You Can't Take iPhone 14 Screen Protection for Granted
Dec 21, 2022
Why you can't take iPhone 14 Screen Protection for Granted
Excited about getting a new iPhone 14 or just anxious about getting it set up and running? We hear you, but don't throw just any screen protector on your phone—or leave your screen unprotected altogether. You're likely setting yourself up for costly screen repairs and suboptimal performance. Instead, with the right screen protection, your iPhone 14 can look and feel like it just came out of the box even after years of use. Learn why you shouldn't take your screen protection for granted.
Limitations of the Ceramic Shield
If you haven't updated your device since the iPhone 11 series, you may be learning about the Ceramic Shield on your new iPhone for the first time. Don't be swept up by Apple's claim that this screen is four times stronger than previous models. Yes, there are ceramic nanocrystals embedded in the glass that give it four times the scratch resistance, but when it comes to chips, cracks, and other impact damage, the Ceramic Shield is still plenty vulnerable.
Touch Sensitivity and Smudge Resistance
It's easy to assume that all screen protectors have perfect touch sensitivity that lasts indefinitely. Without premium glass, the right adhesive, and smudge-resistant treatment, you may find yourself periodically swiping your screen multiple times to make it work, without even realizing an inferior screen protector is to blame. Plus, touch sensitivity may be even more important for iPhone 14 Pro and iPhone 14 Pro Max screen protectors as the new Dynamic Island changes how you touch and swipe your screen. Don't take your chances with just any ol' screen protector.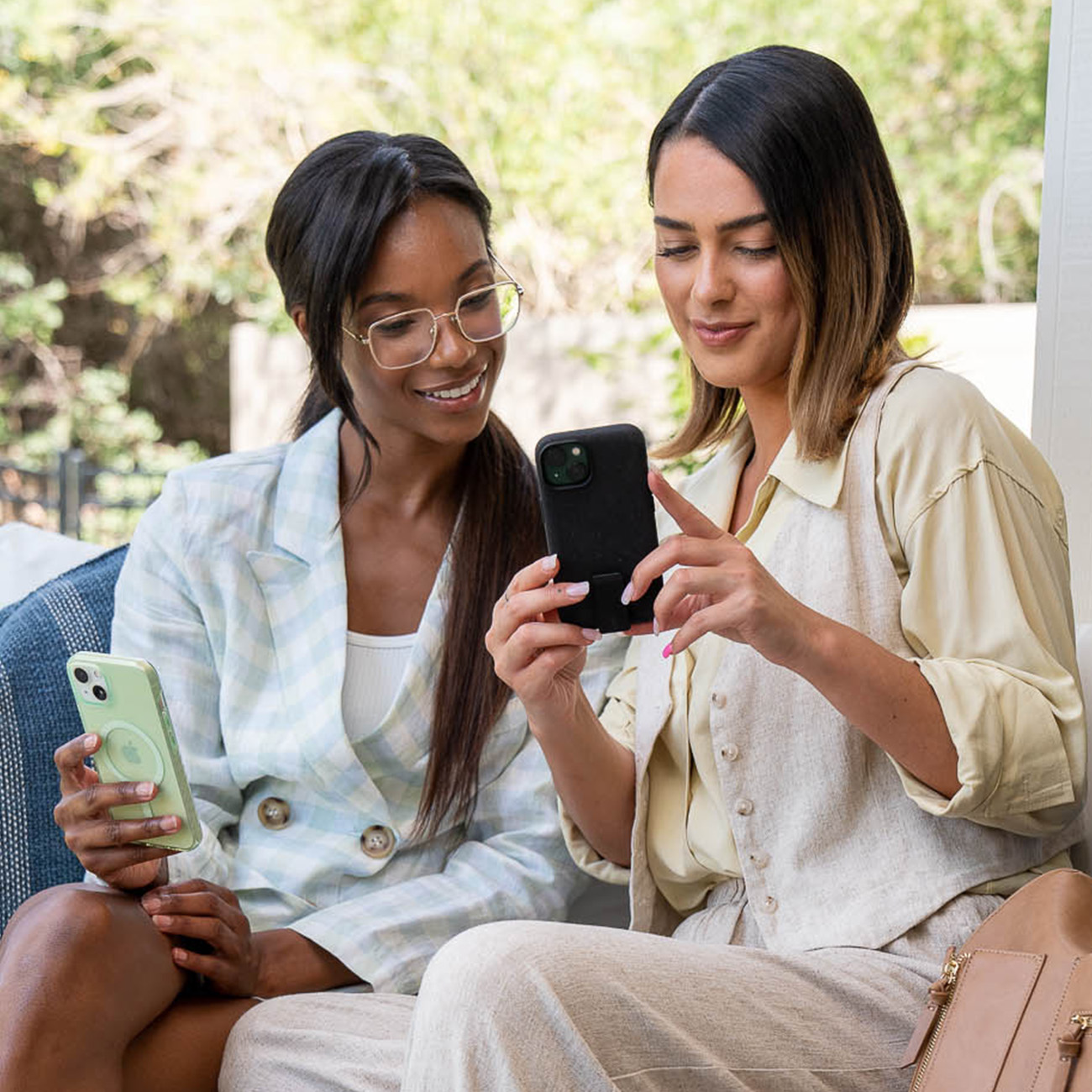 Screen Protection Tailored for your Device
Our meticulous manufacturing and design process ensures a case-friendly fit with edge-to-edge coverage for every iPhone model. Our latest Pure 3 screen protector technology also uses a slower cutting method and more frequent blade changes to minimize micro-fractures on the edges of the glass. If you're into larger-sized screens, you might be interested in privacy or blue-light filters for your iPhone 14 Pro Max or iPhone 14 Plus screen protector. Even the standard model deserves best-in-glass iPhone 14 screen protection.
A Piece of Glass vs. Full-Service Protection
It's not just the Ceramic Shield that's vulnerable. Even the strongest screen protectors in the world aren't indestructible. Experimental sapphire screen protectors, for example, are almost scratchproof but may shatter when exposed to a sharp, forceful impact. If you're something of a butterfingers or just unlucky, you should know how you're going to replace a cracked screen protector.
With BodyGuardz, you never have to worry. Our Advantage Program is free to join and includes free screen protector replacements. You just pay shipping. Our products are also designed with at-home installation in mind, so you can replace a damaged screen protector in just minutes.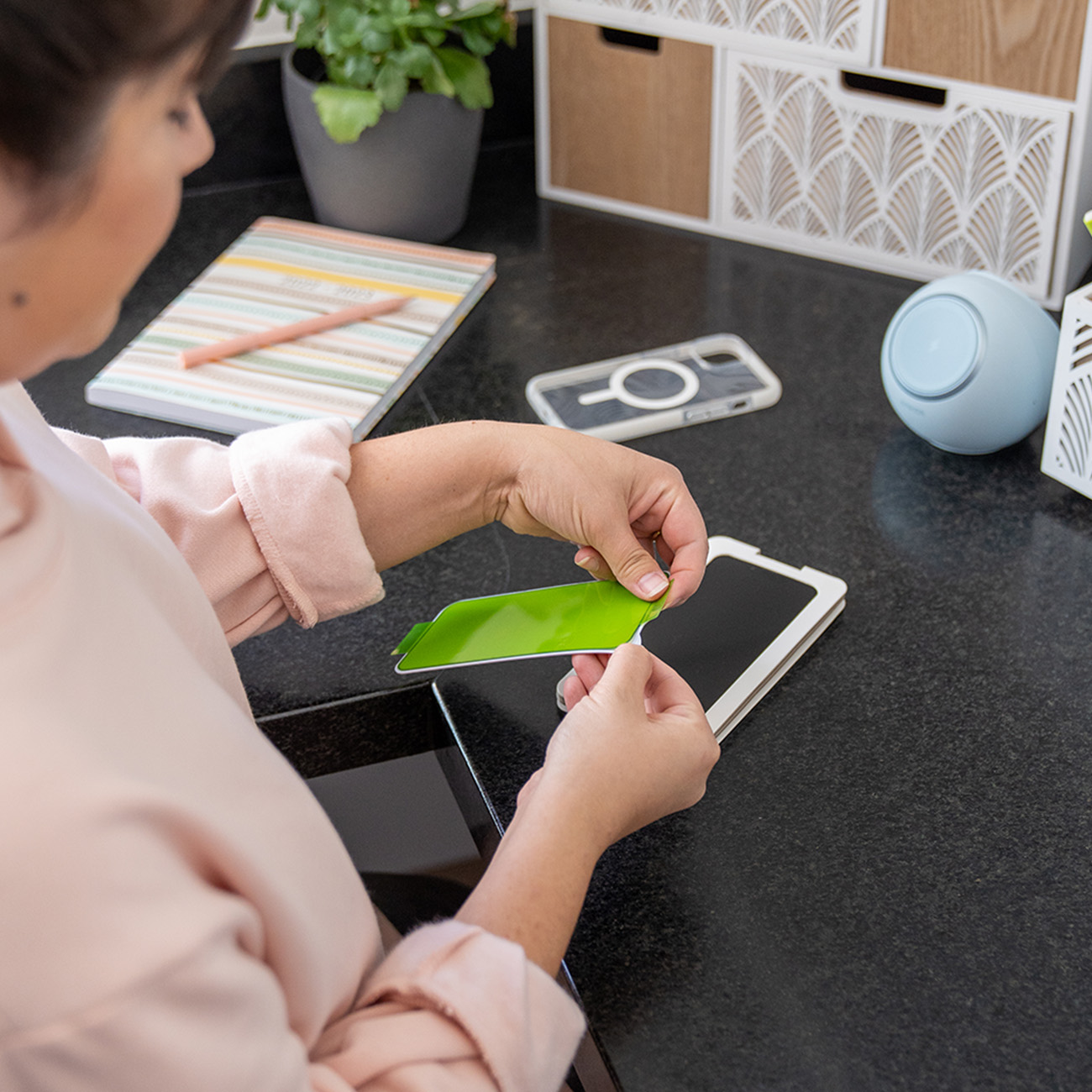 A Return to Normal
For many people, their new iPhone coincides with getting back out there, traveling more, attending more social events. You're going to drop your phone and outdoor surfaces like concrete and asphalt tend to be less forgiving than carpet or even hardwood flooring. Even if you still expect to hunker down for much of the winter, next spring is right around the corner.
Working Toward a Sustainable Future
By ensuring your phone lasts a long time, screen protection has considerable upside for sustainability. But, that doesn't mean we give our screen protectors a free pass as a sustainable product. In recent years, we've made our packaging 100% recyclable, while also implementing more sustainable shipping methods. We've also introduced the world's first screen protectors to earn Green Product Mark certification from TÜV Rheinland, including this year's Pure 3 screen protector made from 30% recycled glass.
Find Screen Protection for your iPhone 14
It doesn't take long. Now that you know what's at stake, shop for premium iPhone 14 screen protection that will safeguard your device and elevate your iPhone experience.