Google Pixel Screen Protectors: Shopping Guide
Dec 22, 2021
Google Pixel phones may not be the most popular by sales, but they are among the best-rated by smartphone critics. Given their price point, these phones also offer some of the best value of any phone on the market. Whether you're excited about getting the new Google Pixel 6 or accessorizing a previous model, make sure your phone display is fully protected for the life of the phone with Google Pixel screen protectors from BodyGuardz.

High-quality glass and advanced display capabilities are a big part of what makes Google Pixel phones so great. Just like iPhones and Galaxy phones, however, the screens are far from indestructible. You need a screen protector to get the most value out of your phone in the long run. Then again, maybe you don't need convincing and you're ready to buy. Check out our Google Pixel screen protectors and cases.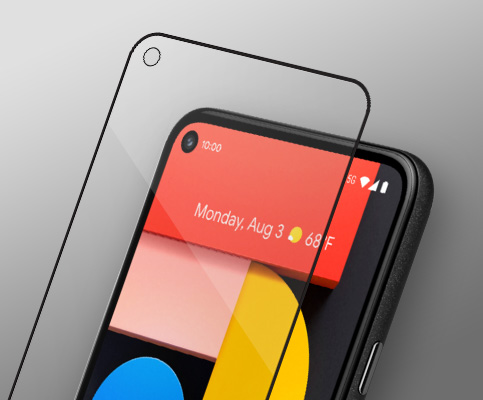 How Much Does It Cost to Replace a Google Pixel Screen?
Many people think that if their Pixel screen breaks, they can simply get it replaced. That's true, but it's also more expensive and time-consuming than you might think. Several factors determine how much screen replacement costs including the Pixel model, the extent of the damage, the repair service, and whether you have Google Preferred Care which itself costs between $99-$199 for two years of coverage. You might pay as little as $29 for repairs with Preferred Care or as much as $350 for professional repair service on newer devices.

More than just the financial cost, it takes time to find an authorized repair service provider, take the device to their store, and wait or return when the repair is completed.
Get Great Value With Lifetime Protection
As screen protectors range from $30-$45, it only takes one saved screen for these protectors to more than pay for themselves. But that's not the best part about our Google Pixel screen protectors. By simply registering your product with our Advantage Program, you get free replacements for the lifetime of your device. You just pay shipping, unless you bundle your screen protector with a case and we'll pick up the tab for shipping. We've made it easy, fast, and reliable to get a replacement screen protector. Instead of putting another errand on your to-do list, the replacement arrives in the mail with an easy installation guide.
Do I Need a Screen Protector for the Google Pixel 6?
From Gorilla Glass 5 to Gorilla Glass 6 and now Gorilla Glass Victus with the Pixel 6 and 6 Pro, Google has made substantial improvements to their screen strength in recent models. Nevertheless, the screen is vulnerable to scratches, cracks, and other impact damage. A two-meter drop rating may sound like as much drop protection as you would ever need, but sharp objects and abrasive surfaces can do their own damage to the Pixel screen. You still need a screen protector for your new Google Pixel.
Which is Stronger: Gorilla Glass Victus or Ceramic Shield?
Are you undecided about what you want from your next smartphone? You may be wondering how Google's Gorilla Glass Victus stacks up with Apple's Ceramic Shield. Notably, both types of screens are actually manufactured by Corning. The 4X (or 16-foot) drop rating achieved by the Ceramic Shield makes it arguably the strongest glass on the market. However, drop protection is not the same as scratch resistance in which the Gorilla Glass Victus and Ceramic Shield show comparable performance.
Pure 2 Tempered Glass Screen Protectors for Google Pixel Phones
As easy as we've made it to get a replacement, we've made it just as hard to break the screen protector in the first place. Pure 2 uses a premium-grade formulation of aluminosilicate glass, but we've also customized this underlying tempered glass technology for various Google Pixel models. With our Pure 2 Edge screen protector, it's not just the drop protection and scratch resistance—it's also the edge-to-edge coverage that's still compatible with a case.