How & Why Tempered Glass Screen Protectors Crack
Apr 2, 2021
How Tempered Glass Screen Protectors Crack (And Why They Should)
A strong, durable tempered glass screen protector is an essential accessory for every smartphone. After all, accidents happen. We toss our phones to friends. We knock them off tables, desks, and nightstands. And we drop them while trying to put them in our pockets. However, with a screen protector and a case, your phone will be protected against those drops, falls, and everyday wear and tear.

But, have you ever seen your phone's screen protector crack like an egg? You probably have, and you probably panicked … until you realized the crack was on your phone's screen protector, not the device itself. Next time you have to pick your phone up from the ground, only to find the tempered glass screen protector is broken, don't get frustrated—it didn't crack from inferior quality. The screen protector cracked because that's what it's supposed to do.
You Owe It to Your Device to Protect It with Tempered Glass
There are many different types of glass out there used for many different things, so what makes tempered glass unique?

It all starts with the manufacturing process—glass with nickel sulphide inclusions is heated and then rapidly cooled to room temperature. This tempering process makes tempered glass 4–5 times stronger than regular glass. With its increased strength and durability, this glass was used in car windows and shower doors long before it was ever used in smartphone screen protectors.

The other main differentiator is that, unlike regular glass shattering into tiny, sharp, dangerous shards (like a drinking glass would if you dropped it), tempered glass breaks into smaller pieces that interlock with one another. This unique design keeps broken tempered glass from shattering all over. Once you start noticing cracks (and distinctively broken tempered glass), you know the screen protector did its job safeguarding your phone. You also know it's time for a replacement.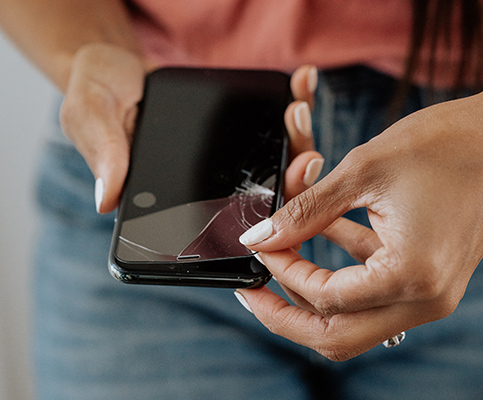 Shopping for Your Next (Or First) Tempered Glass Screen Protector
As the smartphones we know and love continue to evolve, so do the screen protectors that keep them from suffering damage. And when it comes to screen protectors, there are so many to choose from—each with its own unique features. Luckily, BodyGuardz offers the perfect tempered glass screen protector for every device.

BodyGuardz Pure® screen protectors are 2 times stronger than the leading competitor, making them the ideal choice for any phone. Plus, they come with a variety of features: Pure 2 Edge boasts complete screen coverage and case friendly, edge-to-edge protection, while Pure 2 EyeGuard™ filters out high-energy blue light that can cause eye strain and negatively affect your sleep. SpyGlass® screen protectors provide equal parts protection and privacy.

But that's not all … most BodyGuardz screen protectors feature Ultra-Fresh® antimicrobial product protection, which reduces 99% of bacteria growth on the surface of your screen. Plus, if your screen protector eventually cracks or breaks, there's no need to worry—BodyGuardz Advantage Program members enjoy free lifetime screen protector replacements, as well as member-only discounts and offers.
Make the Right Choice: Protect Your Phone with Tempered Glass
Thinking back to what cell phones could do even ten years ago, it's remarkable how far they've come (and how fast they got here). As devices get more and more advanced, it becomes more important than ever to protect your device. So, if you have a sneaking suspicion the Easter Bunny may be leaving a shiny new smartphone in your basket this year—see if you can get him to throw in a tempered glass screen protector, too!
Don't Sleep on the Benefits of Slumber
The importance of a good night's sleep cannot be overstated. Getting 7–9 hours every night can help you think clearly, relieve stress, improve your mood—and even boost your immune system, strengthen your heart, maintain a healthy weight, and more. Plus, with the Emergency Hub standing by, protecting you and your family all night long (while emitting a soothing, warm yellow light), you may just sleep sounder than you ever dreamed possible.