The Portable 360° Security Camera Reinvents Apartment Home Security
Jul 12, 2021
In the past, smart home security was tailored to the individual homeowner. Designed to be installed once and last for years, home security was for those who owned their homes, while renters were not a part of the equation. The new BodyGuardz Portable 360° Security Camera reinvents and reinvigorates security for apartments and renters, putting peace of mind in the hands of everyone—no matter where they call home.
How the 360° Security Camera Changes the Game for Renters
Studies show the average renter moves between one and three times in their adult life before finding either a long-term rental or, in some cases, buying a home. So, what does a renter look for in a security system for their apartment? Let's take a peek.

• Versatility – There are all kinds of accidents, incidents, and threats you may experience in your living space. That's why security cameras for renters need to be multi-functional. We designed our camera to address these needs and more.

• Compatibility – Let's face it: most smart home tech is app-enabled these days, so security cameras for renters should offer app or cloud capabilities. Our BodyGuardz Smart Life app can be downloaded directly to your phone but is also compatible with Google Home and Alexa.

• Portability – This is the big one. Renting a place means you want something that doesn't require permanent installation (in case you move) and doesn't require wiring to the unit's electrical panels—something that's usually frowned upon in renting.

To fill the void in traditional smart home tech for better apartment security systems, BodyGuardz created the 360º Security Camera. This smart, savvy device is the ideal security camera for renters.
An All-In-One Smart Home Security Camera Designed for Renters
The 360° Security Camera from BodyGuardz is designed for every renter. Whether in a large apartment, a small apartment, a single-family home with a yard or without, this camera makes any house a home with portable peace of mind.

First and foremost, the camera is compact—easily set up anywhere, anytime, and doesn't require permanent installation. With a long-lasting rechargeable battery, it's the perfect space-saving security for renters everywhere.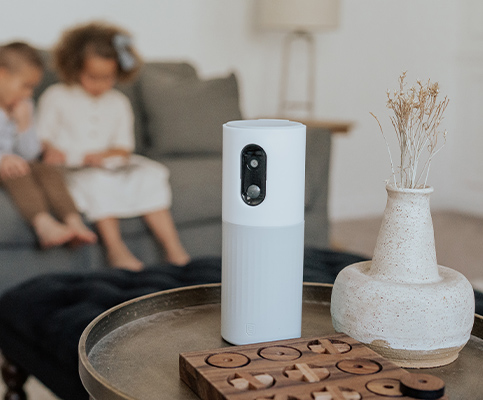 How the BodyGuardz 360° Security Camera Works
Designed with an integrated rechargeable battery, the 360° Security Camera can be picked up and moved anywhere it's needed. Keep an eye on your pets while not at home or watch your kids in the backyard. Take it with you where you travel or move it around your rental as needed. Here's what makes our camera unique from other apartment security systems:

• It's Rechargeable – With a 5-day rechargeable battery, charging cable, and integrated USB plug, the camera is self-contained and easily positioned.

• No Installation Required – Skip the wires and tools. Your device is quickly and seamlessly set up in any location, then configured with an easy app-guided process. Even better, it's portable and smaller than many traditional travel water bottles.

• App-Enabled Full Coverage – Through the BodyGuardz Smart Life app, your camera's pan view is adjustable, offering 360° of viewing from anywhere in the world. Plus, with motion sensors, night vision, and 1080p HD quality video, its output is unmatched.

• Remote Viewing – Use your BodyGuardz Smart Life app to view recordings and notifications via your personal activity feed. Customize your preferences and store as needed to personalize the security system in your apartment.


Why the 360° Security Camera is the Smart Choice for Your Apartment
Ultimately, whether you choose to rent or own your home, peace of mind is priceless. BodyGuardz knows the smart-home tech that counts is having eyes and ears on what – and who – you value most. Explore more top-of-the-line features available in our camera:
• 2-way audio with echo elimination—allowing you to communicate through your camera

• Motion detection with person detection to avoid false alarms

• 90-decibel alarm

• 4x digital zoom with premium clarity

• Travel and privacy camera cover

• Secured personal data backed by Amazon Web Services



Tired of feeling like you can't get home security simply because you're a renter? Try our premium Portable 360° Security Camera, and discover how the smartest home security is the kind that's designed with you in mind.