Our 5-in-1 Emergency Tool Will Help You Know When to Bug In or Bug Out
Oct 26, 2021
Between hurricanes, tornadoes, earthquakes, fire, flooding, blizzards, ice storms, heat waves, hazardous materials, tsunamis, and volcanoes, there is no place where preparing for just a single type of event is sufficient for emergency planning. Every region has slightly different risks for natural disasters, but no place is immune to active shooters and civil unrest. Modern manufacturing practices have even given rise to entirely new types of emergencies—such as other-worldly clouds of poisonous carbon dioxide gas.

It's clear you need to cast a wide net for emergency preparedness. The BodyGuardz Portable 5-in-1 Emergency Hub is an emergency multi-tool that will help you know and prepare for up to 28 different types of emergency situations. This 5-in-1 emergency tool includes alert notifications, alarm siren, power bank, night light/flashlight combo, and emergency FM radio.
Bug In or Bug Out? Plan Ahead to Make Smart Last-Minute Decisions
No matter where you live, to plan for different types of emergencies, you need to be prepared to bug in (shelter-in-place) or bug out (evacuate). Knowing the best course of action may not be obvious. A fast-developing storm system, for example, may not leave you enough time to safely evacuate. Flooding can be widespread and somewhat unpredictable as new growth and construction alters the local topography. A heat wave or ice storm may not seem like a life-threatening situation at first, but if you lose power for an extended period of time, the situation can unexpectedly turn dire.

The extent of your emergency preparedness may also affect your decision to bug in or bug out. Suppose, for example, you live in an area where evacuating for a hurricane is recommended but not mandatory. If you have hurricane shutters, a backup generator, and other basic provisions that you can make last for weeks if necessary, you may feel comfortable waiting out the storm. Otherwise, it's probably best to grab your bug out bag and get the heck out of town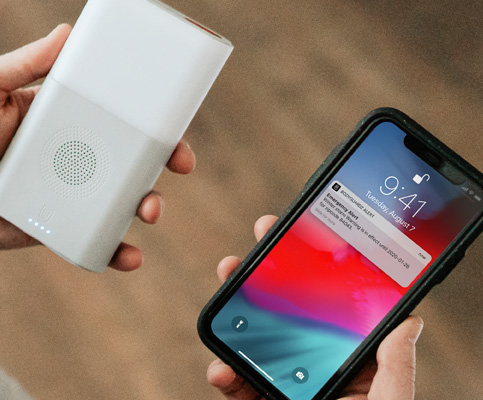 Why You Need a 5-in-1 Emergency Tool with Alert Notifications
Indeed, one of the first steps in an emergency is to decide whether to bug in or bug out. But to do that, you need timely and accurate information about emergency situations as they're developing. Some types of emergencies make local news days ahead of their occurrence, others show warning signals only minutes before they strike.

Sure, your smartphone can receive some emergency alerts, but our 5-in-1 emergency tool takes these notifications to the next level. Get alerts for more kinds of emergencies. Set your preferences for how you will receive these alerts—a push notification, an audible alarm, or both. You can even use the emergency FM radio as a backup if both WiFi and cellular networks are down. This alert notification system can even serve some of your everyday needs, like knowing whether an oncoming gust of wind is signaling a thunderstorm that will disrupt your yard work, or whether an approaching snowstorm is bad enough to leave the office early.
It's That Time of Year to Get Prepared
To everything, there is a season. Last month was National Preparedness Month—not just for hurricanes, tornadoes, earthquakes, or flooding—but for general emergency preparedness. From going back to school to fall home maintenance to holiday gift shopping, you have plenty of other things to plan for in the coming months.

Take care of your emergency planning now. Order your Portable 5-in-1 Emergency Hub to cover many of your basic emergency kit needs. Stock up on potable water, shelf-stable food rations, a first aid kit, and other things you may need or want while bugging in or bugging out. Preparing for an emergency doesn't have to be hard, especially with the head start you get from our emergency multi-tool.