The Best Phone Cases for the Purple iPhone 12 and 12 mini
Apr 23, 2021
Apple just announced a new purple finish for the iPhone 12 and 12 mini. If you weren't completely sold on the blue, green, black, or white, if you weren't completely sure between the iPhone 12 and 12 Pro, this new color option may be the thing that finally gets you to buy a new phone.

It's not uncommon for people to quickly decide what color they want their new iPhone to be, only to struggle with finding a case that matches. Let BodyGuardz end that dilemma for you right now. We have multiple phone case designs, offering the perfect complement to the purple iPhone finish. Here are three thoughts to help you decide:
Don't Overthink It!
The Ace Pro® has always been one of our best sellers for a reason. It offers the highest level, 10ft. drop rating. It has a slim, pocket friendly design, wireless charging compatibility, and responsive user friendly buttons. You won't find a better phone case for optimal usability than the Ace Pro. It also comes with an affordable price tag. Best of all, if you're trying not to overthink things, the Ace Pro for iPhone 12 or for iPhone 12 mini is available in a purple that's the perfect complement to the new purple finish.
Let the iPhone Speak for Itself…
Convinced about the purple iPhone, but not entirely sure you want that much purple? BodyGuardz is known for premium phone protection that's designed, not decorated—including clear cases that accentuate the look and color finish of your phone. Between the Ace Pro, Stack™, Split™, Carve™, and Refract™, we have five different phone case designs with a clear color option. Quickly explore the differences in price and style for iPhone 12 cases and iPhone 12 mini cases here. Having trouble choosing the perfect case for you? You can start a Live Chat to ask questions about your phone case preferences while shopping on these pages.
Treat Yourself with Midnight Highlights
One of our newest phone case designs, the Avenue™ offers the perfect combination of a clear body with a pop of color on the protective bumper. Our personal recommendation for a purple iPhone is the Midnight accent color, but it's also available in charcoal. The unmatched strength of this phone case comes from the TriCore™ 3-layer protection system, including a 10ft. drop rating and rigid backplate that prevents twisting and bending. It's also wireless charging compatible and screen protector friendly. Showcase your new purple iPhone 12 and get a high-performance phone case with the Avenue for iPhone 12 or for iPhone 12 mini.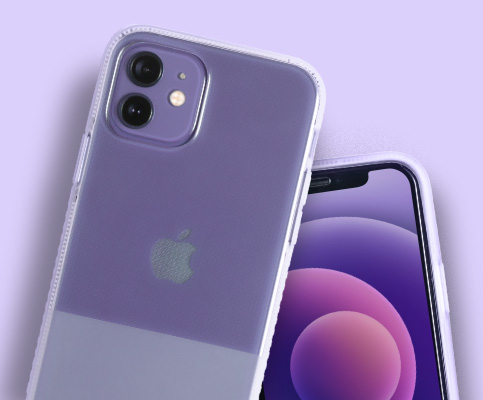 What to Do with Your Old iPhone
Ready to buy your new iPhone 12? Already ordered one? Be sure you dispose of your old phone responsibly. If the phone isn't too old, it's likely worth trying to resell it. Most retailers offer trade-in programs, but even if they're not interested in buying your old phone, they will gladly recycle it for you. You can also drop the phone off at a local electronics recycling center. Call2Recycle can help you find the nearest location with its great recycling center locator tool. Most phone manufacturers also offer resources and programs for phone recycling. Here are the programs from Apple and Samsung. The worst thing you can do is chuck the old phone in your curbside recycling bin and assume it will get recycled—it won't be.

We encourage you to responsibly dispose of your old phone and start enjoying your new iPhone 12 with a premium phone case and screen protector from BodyGuardz.