Declutter with Plug-In Power Banks and Wireless Charging
May 24, 2021
Smartphones. Smartwatches. Tablets. Earbuds. The list of wireless devices we rely on grows longer by the day, and this creates its own challenges. After all, every wireless device has at least one weakness—they eventually need to charge. Learn why more people are turning to plug-in power banks for at least some of their charging needs.

More wireless devices to charge means more cables strewn about our workspaces, nightstands, kitchen counters, etc. In an effort to declutter, many tech users rely on wireless charging pads and wireless charging banks to keep their devices fully charged and ready to go. While quite effective at saving space, all wireless chargers need to be charged as well. Many of these power solutions aren't capable of charging more than one device at once.

Without a truly 100% wireless charging solution, where does that leave clutter-conscious device owners? Many use plug-in power banks as part of their decluttering plan. One way to make this solution even better is to enhance your emergency preparedness and general home readiness with BodyGuardz® Portable 5-in-1 Emergency Hub which includes this type of plug-in power bank and more.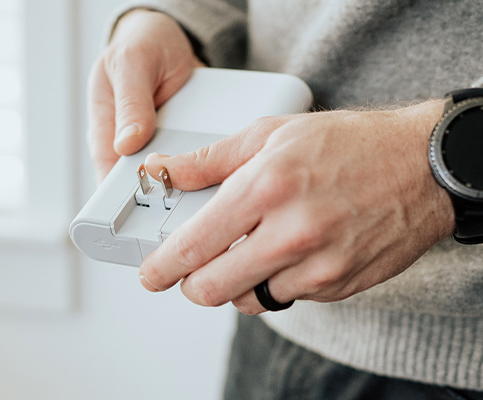 An Emergency Essential with Everyday Plug-In Power Bank
The 5-in-1 is already a game-changer in the world of emergency preparedness. From blackouts to severe weather events and everything in between, the Emergency Hub boasts several potentially life-saving features—and a few everyday conveniences—including a power bank, emergency notifications, one-touch alert, night light/flashlight, and emergency FM radio.

Designed to keep your devices fully charged at home or on the go, the power bank built into the Portable 5-in-1 Emergency Hub is the ultimate at-home or on-the-go charging solution. In addition, the 5-in-1 offers something many other plug-in power banks do not: simple, convenient storage for charging cables. When not charging your device, simply wrap your charging cable around the 5-in-1—keeping your space clutter-free and your cable neatly stowed—ensuring that it's handy and easily accessible for when you do need to charge your phone or tablet.
Create Clutter-Free Tech for Your Home
From interpersonal connectivity to keeping up with the news, from ride-hailing to dinner-ordering, the cell phone has evolved from a clunky device barely capable of placing and receiving phone calls to a portable supercomputer that we use for virtually everything. With a combination of plug-in power banks and wireless chargers, you can ensure you always have an available option to conveniently charge your phone or mobile device. And, best of all, you can do it without adding extra clutter to your living space.