iPhone Buying Tips: Which iPhone is the Best Value for the Money?
Oct 11, 2021
With the iPhone 13 series available for purchase and the holiday shopping season upon us, a lot of people are asking themselves: Which iPhone is the best value for the money? Should I buy an iPhone 13? Or maybe an iPhone 12, or even an 11? Should I stick with an iPhone model sold directly by Apple, or does it make sense to buy an iPhone from an authorized reseller?

These are not easy questions to answer, but for price-conscious consumers it's impossible to feel good about buying a new iPhone without at least asking. We want to help.
About BodyGuardz: Cases and Screen Protectors
The BodyGuardz collection has already made it easy to shop for cases and screen protectors for your iPhone, iPad, AirPods, and Apple Watch. You can quickly browse different styles, colors, price points, and levels of protection. We offer accessories for the brand-new iPhones, along with steep discounts for older phones as part of our Hand-Me-Down Case Sale.
Making an Apples-to-Apples Comparison
Why is it so hard to compare which iPhone is the best value for the money? Even before you start considering differences in the features between the iPhone 12 vs the iPhone 11 Pro or the iPhone 12 Pro vs the iPhone 13, there's the storage capacity to consider. For example, someone might be interested in a previous iPhone model but still want 256GB. They could buy the top-level iPhone 12 or the mid-tier iPhone 13. The base models are $100 apart, but with the same memory capacity, the difference shrinks to $50 ($849 vs $899).
FOMO Regrets Often Focus on a Single Feature
Do you really need the latest model with all the bells and whistles? Is the new iPhone 13 really that different? Isn't the iPhone 11 supposed to be almost as good as the 12 anyway? The answers to these questions may be yes at first, but then a single feature emerges as a serious FOMO regret. An iPhone 11 model battery may consistently fail to last all day, making you wish for the MagSafe charging option with the iPhone 12. A new baby in the family suddenly turns you into a connoisseur of home videos, making you wonder what you could capture with the iPhone 13's new Cinematic mode. At least try to anticipate these types of regrets before making a final buying decision.
Post-Peak iPhone Excitement and Trade-In Value
Most people no longer treat Apple's iPhone announcements as breaking news and appointment viewing to be watched in real-time. No longer is there an expectation that each new iPhone model is a game-changer for modern living. Yet, the newest iPhones do have upgrades and a general reputation for durability. Between network carriers and Apple itself, there are a lot of trade-in programs available. Buy a new iPhone that's already a couple years old and it may not have a lot of trade-in value in a few more years. At the same time, if you're likely to keep and use your iPhone for 4-5 years or more, it may not have a lot of trade-in value regardless.
Apple vs Authorized Resellers
Let's say you go through the Apple comparison tool and you've decided the iPhone 12 Pro is the choice for you. It's a year old, but it's got the upgraded camera and other Pro features, and you don't think you need the oversized display of the Pro Max. Then, you go to buy it, only to realize Apple no longer sells it. No problem. You can find an authorized reseller near you with this Apple locator tool. Most cellular carriers and electronics stores are authorized resellers and will have iPhone models from the last few years available for sale. Plus, you can still get a warranty from the date of purchase and basic customer support. Just be sure to stick to Apple's official list of authorized resellers to avoid problems later on.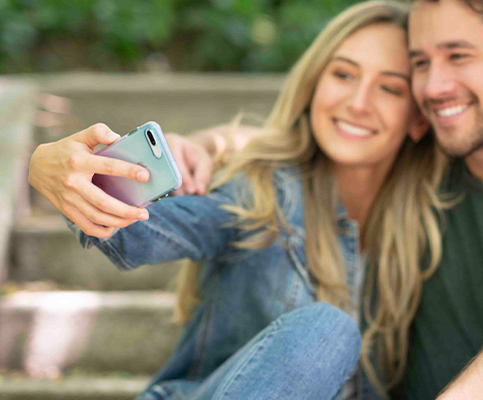 Secondhand Value and Hand-Me-Down Gift Sale
Whether or not your current iPhone has significant trade-in value, you may know someone who would use and appreciate your phone. It's a common strategy for families with teenagers who are happy to have any smartphone they can use. One important thing to keep in mind: A friend or family member may appreciate your current phone but not necessarily your quirky taste in phone cases. By adding a new, out-of-the-box case, you can turn your old iPhone into the perfect gift idea for the holiday season. With our Hand-Me-Down Case Sale, you can get a protective case with classic colors and fun styles at a steep discount.
Saving Money on Accessories When Buying an iPhone
Along with the modest discount Apple offers on previous iPhone models, you can get discounts on cases and other iPhone accessories. These savings can put a little extra money in your pocket, but they also make it easy to buy multiple accessories so you're ready for every situation. Buy our Harmony™ case, for example, with its unique ombré color style that's perfect for social events and everyday use. You can also pick up a Torrey® case from our sister brand, Lander, with its ThermoLine® insulating technology for expanded outdoor use in hot or cold weather.