BodyGuardz Mother's Day Gifts for a Life Worth Living
Apr 30, 2021
Flowers, gift cards, and cute coupons are nice, but how do you show the mother in your life just how much you really appreciate her? Moms have been through the ringer the past year. From holding down the fort with full-time jobs to tackling remote learning with littles, unemployment, solo parenting, or their own personal challenges, moms deserve some love this year.

Whether you're celebrating your mom, stepmom, aunt, partner, guardian, or any other mother figure in your life, here are some Mother's Day gifts she's sure to appreciate.
The Best Screen Protectors for Moms
Give mom one less thing to worry about this year with top-rated screen protectors from BodyGuardz®. Each screen protector is backed with an Advantage Lifetime Warranty, so mom can rest assured her device – and her tech – are covered.

Pure 2 Edge – The most popular screen protector from BodyGuardz, Pure 2 Edge offers ultra-thin, durable screen protection for your smartphone. The edge-to-edge design is water and smudge resistant against little hands and sticky fingers. With perfect touch sensitivity, it's a no-brainer.

PRTX EyeGuard™ – Relieve mom's tired eyes with PRTX EyeGuard, a screen protector infused with a special blue filter that reduces eye strain from digital devices. While mom's always on the go, PRTX EyeGuard protects against cracks, chips, and breaks, as well as tiresome eye strain.

SpyGlass® – For the multitasking mom, the SpyGlass privacy screen protector keeps her information safe. Its special privacy filter allows mom to see the screen clearly straight on but protects information from either side. SpyGlass safeguards mom from prying eyes and offers shatterproof screen protection for everything from banking on the go to ordering groceries.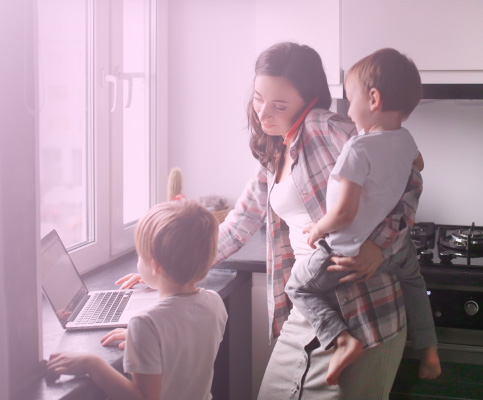 The Best Smartphone Cases for Moms
Celebrate mom with superior smartphone protection she can count on. Designed to multitask like she does, BodyGuardz cases will protect her phone on the go with her own personal sense of style—it's the perfect way to show her you care.

Harmony™ Case – Chic and protective, Harmony safeguards mom's smartphone. With a modern ombré design and trendy metallic button accents, it protects her phone while showing off her style. Best of all, Harmony is powered by Unequal's patented impact protection against slips, drops, and falls.

Accent™ Duo Case – Inspired by luxury leather goods, Accent Duo offers mom an ultra-luxe look and feel for her smartphone, all while providing premium smartphone defense. With TriCore's three layers of protection, a slim, stylish design, and a detachable lanyard, mom can count on this case for complete peace of mind.

Avenue™ Case – Featuring a rigid, optically clear back and shock-absorbing bumper with a pop of color, Avenue is designed to enhance the overall look and feel of mom's smartphone. Available for iPhone 12, 12 Pro, 12 Pro Max, and 12 mini.
Smart Life Security with the Portable 360° Security Camera
Did you look and look for the ultimate Mother's Day gift but come up empty? Not to worry, the brand new Portable 360° Security Camera from BodyGuardz is the perfect tech gadget for mom and will be available later this month. Print out a picture of the camera to wrap for Mother's Day and sign up for an email notification the moment it becomes available.

This camera is the peace-of-mind product mom never knew she needed—until now. Featuring an installation-free design, this innovative smart-life security camera can be set up anytime, anywhere.

While traditional security cameras on the market offer a limited field of view, the Portable 360° Security Camera raises the bar with a full 360° field of vision—eliminating blind spots with just one portable camera. Set it up in the playroom so mom can keep an eye on kiddos while she enjoys some well-deserved personal time or use it anywhere to keep eyes on during a much-needed night out.

Designed with mom's everyday wants and wishes in mind, BodyGuardz has the perfect peace-of-mind gifts. Celebrate the moms and mother figures in your life this Mother's Day with something she's sure to love.