Step-by-Step Guide with Packing and Moving Tips for 2021
Jun 30, 2021
Moving into a new home can be hectic, both physically and mentally. It's also an emotional process when you have lots of strong memories attached to your current home. Moving can be so stressful that many people forget, or simply don't have the time, to take the steps necessary for a seamless moving process. Yet, this usually creates even more problems later on. With so many people planning to move in 2021, it's more important than ever to get an early start. Summer is already upon us. Create your moving plan now. Here are our best moving and packing tips for 2021:
1. Start Getting Organized as Soon as Possible.
Don't just think about your plan; write it down! At this stage, you should create a timeline and checklist for packing and the eventual move itself. Start identifying and organizing categories of items with some sense of when and how you will go through them. Many people ignore this stage until the last minute which causes confusion and problems, including forgetting to pack something important. Though this stage requires a lot of thinking and effort, it is worth it at the end of the day.
2. Throw away or sell unusable items.
Do you have trouble hanging on to old, tattered, and worn items? Moving to a new place affords you the opportunity to simplify your life and belongings. It's an opportunity to discard the things you're not using and the things you have outgrown, including furniture and other large items. Often, these larger items will only incur additional moving costs and eat up more time for the moving process. Even if you use and enjoy a piece of furniture in your current living space, it may not make sense in your new place. Try to anticipate these mismatched items and then sell, donate, or discard them before the move. Be honest and be decisive. It's much rarer than you think to regret downsizing your belongings.
3. Estimate and Plan for the Costs.
Your exact costs and total budget are a moving target, but it's still smart to think about the cost of moving into your new home. Expenses will likely include packing materials, packing and loading, transportation costs, unloading and unpacking. Part of making this plan is to keep an eye out for freebies. Do you have a contact at the local grocery store who can supply you with free moving boxes in various sizes? Is there someone in the neighborhood who can help you lift the heavy stuff? Estimating the costs along each step of the way will help you make better decisions for overall value and help you prepare financially for your move.
Upgrade from Moving Boxes to Plastic Bins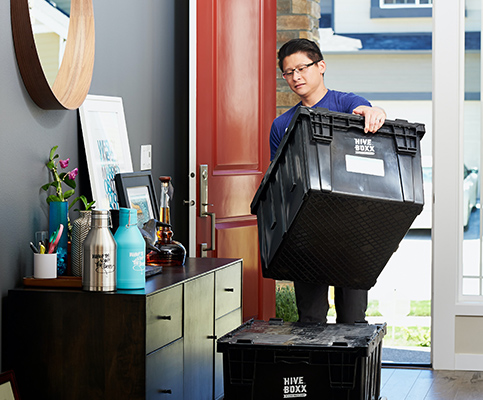 4. Decide to Rent a Moving Truck, Hire a Professional Mover, or Plan a DIY Move
Unless you have lots of support and you're just moving across town, the best result usually comes from hiring some type of help. movers offer both skill and delicacy when handling your possessions. With many different types and levels of moving service, make sure you and the mover have a clear understanding of what's expected.

Need to hire a mover on a budget? Contact companies early and be prepared to do the packing and unpacking yourself. Need to save even more time? You should be able to find a mover with a full-service package that includes most or all of the packing and unpacking. If you want to rent a moving truck for a DIY move, be sure to calculate the total space accommodated by the truck and the total size of your belongings. By following the rules for loading a moving truck, you can make the space go a long way. Many moving truck rental companies can help you choose the right size truck for your move. Still, especially if it's a one-way trip, know this option may not be as budget-friendly as you hope.
5. Know How to Find and Choose the Best Moving Companies
Be sure to do your due diligence. Check out these tips to help you choose the best movers for the job:

• Get refferals to the company

• Make sure to check with no less than three companies on their rates and work methods

• Keep your eyes open for suspicious activities or red flags

• Look for professional accreditation

• Check the company's record online with the national umbrella body of movers.

• Verify the company's essential information, licenses, and insurance
6. Search for, Collect, and Get Creative with Extra Moving Supplies
You should pick the right moving supplies for different items to minimize damage. For example, delicate things and furniture should be in boxes that are well insulated to avoid breakage. Instead of thin paper, wrap your glasses, dinner sets, LED bulbs, lamps, etc. in clothes, which will effectively protect them and help reduce material waste during the move. You might also try to find carton boxes or plastic bins to minimize the chances of breaking or damaging your belongings.
7. Label, Label, Label!
You should always label your moving boxes with information that describes what is in them. If you pack books in a box, ensure that you label it as books. Even when you're combining several different items in the same box, try to keep things organized by room and create a label that will let you know where to put the box when first moving into your new home. You can write on the boxes with a marker or use a simple label maker. Unpacking can take several days, but labeling your moving boxes makes things so much easier. Labeling also helps you determine which boxes are necessary for everyday living, which boxes should be unpacked in the first week or so, and which boxes can stay packed and be deposited in your new home's storage area.
8. Pack essential items and documents together.
Keep all of your important documents like your birth certificate, proof of identity, house documents, lease documents, keys, etc., all in one place. You should pack them last, but make them accessible to be easily reached whenever you need them. These items can cause serious problems if they are lost, so be sure to take good care of them while packing. You may also want to create a secondary pile of clothes, toiletries, and kitchenware you will continue to use until the final days before the move.
9. Make an Unpacking Plan before the Big Move
This is an especially important step when moving with someone or with the entire family. Depending on the circumstances, logistical challenges, and personal preference, the best plan may be to unpack, move in, and feel settled within a few days, a few weeks, or even a couple months. Many people unpack about 90% of their belongings right away and then tackle the remaining 10% over a much longer period. There is no right or wrong answer, but it's important to have a plan that is shared with the rest of the household.
10. Make a List of Items You Need for Your New Home
Even with the belongings you brought to your new home, there are going to be new things you need such as a piece of furniture, wall hanging, or floor covering that fits the dimensions of a particular room or living area. Other stuff will need to be replaced just because it was easier not to pack. This is also the best time to think about how to organize and furnish your new living space.

One great strategy is to keep an eye out for life hacks and multi-purpose devices that can save space, while enhancing your living area. The BodyGuardz Portable 5-in-1 Emergency Hub is one such device. With emergency alerts, power bank, night light/flashlight, personal alarm, and FM radio, the 5-in-1 has you covered for emergency preparedness and everyday home readiness.