Get Answers to Frequently Asked Questions About 5G—and What it Means for the New iPhone
Oct 4, 2021
Apple's brand-new iPhone 13 series is here! This will be Apple's second iPhone release to feature all 5G-compatible phones including the latest mmWave 5G technology). So…what is 5G? And how will it impact our daily lives? With bad information and so many conspiracy theories being spread about 5G, it can be difficult to separate fact from fiction. We're here to set the record straight.
What is 5G?
Originally introduced in 2019, 5G is the 5th generation mobile network. Many carriers initially began developing their own versions of 5G by building onto their existing 4G LTE services, but most have since introduced standalone 5G networks. 5G delivers computing speeds of up to 20 Gigabits per second, while 4G networks top out at approximately 14 Megabits-per-second.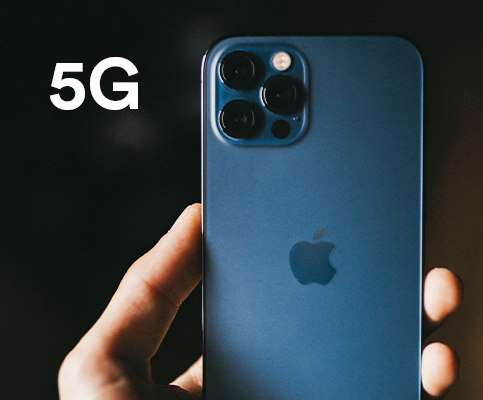 How much faster is 5G than 4G?
The simple answer is that 5G is much faster than 4G. How much faster, though, depends on the 5G network type your device supports.

There are three tiers of 5G network connectivity: low-band 5G, mid-band 5G, and mmWave high-band 5G. Low-band 5G runs approximately 20% faster than 4G LTE and offers baseline 5G coverage to users nationwide, including those in more rural or remote areas. Mid-band 5G—available in most major metropolitan areas of the U.S.—is about 6x faster than 4G LTE.

However, the best of the best is the revolutionary mmWave high-band 5G. It is approximately 10x faster than 4G LTE, enabling messages to be transmitted almost instantly. Known for ultra-low latency, mmWave 5G vastly improves mobile device performance and may have additional applications, including better mobile gaming and remote healthcare.
Does 5G cost more?
While most new devices being released today support 5G, many existing devices—and service plans—do not. So, for many users, the switch to 5G requires a bit of an investment. 5G-compatible devices are some of the most innovative, high-tech gadgets to ever hit the market, which naturally means a higher price tag. The new iPhone 13 Pro, for example, starts at $999.

Once you have a 5G-compatible device, you'll likely have to upgrade your service plan as well. For instance, Verizon's 5G Ultra-Wideband service is only available on their pricier unlimited plans. This doesn't seem to bother consumers, though. According to Verizon CFO Matt Ellis, approximately 60% of new accounts opt for a more expensive premium service plan that supports mmWave 5G connectivity.
Is 5G safe?
3G and 4G were falsely linked to the SARS and swine flu outbreaks of 2003 and 2009, respectively. Similar, unfounded rumors have been swirling about 5G and its implications. Some conspiracy theorists believe that 5G causes cancer, while others have even claimed that it sparked the COVID-19 pandemic.

All the wild speculation about the dangers of 5G is just that—speculation. According to Deloitte Insights, "5G is not hazardous to your health." Rest assured, 5G-enabled devices do not emit dangerous, cancer-causing radiation, and any correlation between the rollout of 5G and the worldwide novel coronavirus outbreak of 2020 is purely coincidental.
What phones and devices are 5G compatible?
There is a wide array of 5G-compatible devices already on the market today, with the best being ranked by CNET. Apple's iPhone 12 line has been sitting in the #1 spot, but the new iPhone 13 models are now arguably the best choices among today's smartphones.

While the underlying 5G technology uses the same sub-6 GHz and mmWave available with the iPhone 12, the newest iPhone 13 models include newly designed antennas that support more 5G bands than ever. It should also come as no surprise that Samsung's S21 Ultra is nipping at the iPhone's heels. Apple and Samsung have been battling for smartphone supremacy for years, and when it comes to 5G connectivity, the battle appears to be raging on. Featuring a brilliant display, camera setup that is second-to-none, and much, much more, this smartphone is the ultimate in 5G-compatible Android devices. Protect the Samsung S21 Ultra with a case and screen protector from BodyGuardz.
How widely available is 5G?
More than new devices, the key bottleneck in widespread adoption of 5G seems to be the carriers and app developers convincing their customers this wireless capacity is a must-have. Rather than speak at length about the possibilities of 5G, Apple's event presentation focused more on mobile gaming and other high bandwidth uses as a niche application of the latest 5G capabilities. Almost as an ongoing preamble to what the future might hold, Apple also highlighted the expanded 5G offerings from 200 carriers and 60 countries around the world—even though full 5G capabilities still seem to be limited to units sold in the US.
How do I protect my 5G-compatible phone?
The most important pieces in the device protection puzzle are premium cases and screen protectors. Smartphones, while quite expensive, tend to also be fragile. If you drop one without a case, chances are you may find yourself shopping for a new phone long before you're due for an upgrade. Therefore, whether you have an iPhone 12, a Galaxy S21 Ultra, or some other 5G-enabled device, a quality phone case is an absolutely essential accessory.


How do I protect my 5G-compatible phone?
When all is said and done, the impact that 5G technology can have on everyday life is immeasurable. While many experts believe that 5G could have far-reaching implications for healthcare, transportation, and more, it's impossible to say right now just how transformative those implications may be. There's one thing we do know, however: even with research into 6G already underway, the global connectivity we enjoy as a result of 5G is unlike anything we've ever seen.

With BodyGuardz, impact protection is just the beginning. In addition to protecting your device from the unexpected fall, some cases and screen protectors even feature antimicrobial protection to control odors and inhibit bacterial growth.