How to Clean a Clear Phone Case: Best Tips and Methods
Apr 26, 2022
Unfortunately, all clear phone cases tend to turn yellow or show other discoloration over time. Some combination of UV radiation, heat, friction, sweat and oily skin will cause oxidation and eventually degradation. Even solid color phone cases will lose a touch of their vibrancy from this oxidation. Worse, because the damage occurs to the material itself, there is no way to clean a clear phone case that's seen significant oxidation.
Yet, there are other causes of yellowing and staining that can be cleaned, especially when treated promptly and properly. If you're a smoker, if you're into gardening or crafts, if you have a habit of using your phone with gunk and grime on your hands, a case may start to show discoloration in a matter of weeks. We'll also discuss ways to prevent staining in the first place, but here are the best methods and solutions for cleaning a clear phone case.
Cleaning a Clear Phone Case
• Cloth, Toothbrush, Eraser, and Dish Soap: If you're not sure about the nature of the discoloration, start simple. First, remove the case from the phone. Take a dry microfiber cloth and attempt to remove any loose smudges and grime. Some people also have luck with an eraser. Dish soap and warm water is the next step. Dry or with dish soap, a toothbrush is a great way to get to all the nooks and crannies in your phone case without causing damage. Be sure to let the case dry out before putting it back on the phone.

• DIY Cleaning Solutions: Isopropyl (or rubbing) alcohol and baking soda are the best recommendations for a more aggressive cleaning method. Try these cleaning solutions one at a time, and be careful to stay away from concentrated alcohol which can cause chemical scratching and discoloration. Hard-bristle brushes and other abrasive surfaces that are used too aggressively may also cause collateral damage to the phone case. Again, be sure to let the case dry out completely before putting it back on your phone.

• Specially-Formulated Sanitizing Wipes: Do these DIY cleaning tips sound too risky for your beloved clear phone case? Are you looking for a convenient cleaning option? Pick up a pack of 25 sanitizing wipes specially formulated to clean phones, screens and cases. These wipes still won't remove discoloration from oxidation, but they are the best bet to clean a clear phone case without causing additional damage.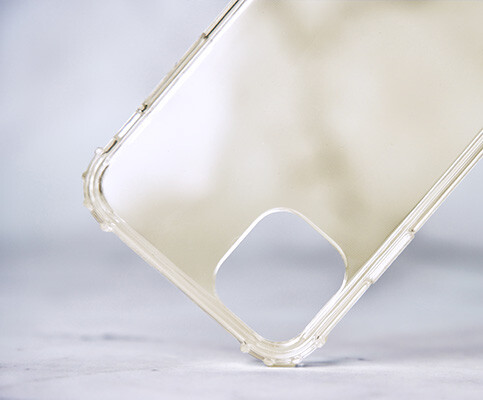 Common Materials Used for Clear Phone Cases
• Thermoplastic Polyurethane (TPU): Known for making great phone cases that are soft enough to be comfortable but hard enough for solid impact protection, TPU is one of the most popular materials for clear or any phone case. But like any plastic polymer, pure TPU is vulnerable to turning yellow, especially with a clear phone case. Composite TPU blends typically have a higher resistance to oxidation and are generally the best choice overall for clear cases.

• Polycarbonate: Hard and unforgiving, this base material shows the greatest resistance to discoloration but will still suffer from the same oxidation and degradation as TPU. The degradation accelerates and infiltrates once the phone case has suffered from scratches, which is a common occurrence with polycarbonate. The hard surface is also difficult to manufacture with precision edges and responsive buttons.

• Silicone: More than just yellowing, silicone that's exposed to excessive heat may actually start to melt and become sticky in your hands. Compared to TPU, silicone is a magnet for dirt and grime, which means you may be able to clean a clear silicone case—but you'll have to do it repeatedly and permanent discoloration will eventually set in anyway. It's also the fastest phone case material, on average, to turn yellow. BodyGuardz stays away from silicone. Our cases are made from some combination of polycarbonate and TPU.


More than just the type of material, it's important to choose a premium phone case manufacturer, like BodyGuardz, that works to minimize impurities in the materials and add UV stabilizers to counteract the effects of sun exposure. How can you reliably find these types of phone cases? Look at customer reviews on third-party websites from people who have tried clear phone cases from multiple manufacturers.
Preventative Sanitizing Treatments
More than just discoloration, if you want a clear phone case that's sanitary, you need a case that's been through a sanitizing treatment. PureGuard™ is an antimicrobial treatment that reduces 99% of the bacteria growth on the surface of your screen protector and case for the lifetime of the device. Since bacteria is also a source of mold, mildew, and staining, this treatment helps keep your phone case looking clear and beautiful for a lot longer than it would otherwise.
Looking to go even further with sanitation for your tech devices and accessories? You can also invest in a UV light sanitizer. While UV radiation from the sun can cause discoloration, devices that specifically emit UV-C light have a sterilizing effect. Know, however, that these devices have their limitations. They can't penetrate into a surface, like a food particle that provides protection for germs, and they don't protect against the introduction of new germs. For this reason, it's important to start with a screen protector and phone case that's been treated with a durable sanitizer like PureGuard.
Keeping Your Clear Case Clean and Crystal-Clear
Unfortunately, clear cases that have turned yellow can't be returned to their former glory most of the time. The good news is that you don't have to give up on clear cases entirely. Go straight to our clear case shopping page or take a look at our ultimate shopping guide to learn even more about how to buy and care for these cases in a way that will ensure years of crystal-clear performance.