How to Make Sure You Never Lose Your AirPods Again
Aug 12, 2021
Originally hitting the market in 2004, the first Bluetooth headphones failed to really take off, but as Bluetooth technology improved, so did the headphones. Their popularity really exploded with the release of Apple's AirPods in 2016 and AirPods Pro in 2019. Yet, even these iconic earbuds have one fatal flaw: They're much easier to lose than their predecessors.

If you've lost your AirPods in the past, know you're not the only one. In 2019 alone, it's estimated that approximately $700 million was spent on replacement AirPods. While these wireless earbuds may be universally adored for eliminating the irritating, tangly cords that have long been synonymous with headphones, lost AirPods are a serious drawback.

If you've simply misplaced your AirPods, Apple makes it easy to track them down using the same "Find My" app used to locate missing iPhones, iPads, and MacBooks. When it comes to drops that send your earbuds scattering, though … AirPod enthusiasts are left searching for ways to avoid losing their prized accessory.
The Solution is Simple: Introducing the Podium Case for AirPods Pro
The occasional drop is inevitable—and it's when the Podium AirPods Pro case is dropped that it really starts to shine. The secret lies in the case's patent-pending pivot latch. Developed after extensive research into the design (and design flaws) of other AirPods Pro cases, this innovative latch keeps your Podium case closed (and your earbuds protected) in the event of an accidental drop. If you've ever dropped your AirPods in the case they came with, you probably watched as the cover flew open and your AirPods scattered—sometimes never to be seen or heard from again. This is a sight you won't see when your AirPods Pro earbuds are safe and sound in your durable, stylish, and cutting-edge Podium case.
As proud as we are of our patent-pending case latch, we didn't stop there. The impact protection, stylish aesthetic, and sustainable construction of BodyGuardz® Podium AirPods Pro case make it unlike any other case on the market today. This 100% sustainable case is made from bioplastics, wood, and aluminum, is shipped in 100% recyclable packaging, and includes a wrist lanyard made from REPREVE® recycled ocean plastics. A proud recipient of the 2021 Red Dot Award for product design, it boasts Ultra-Fresh antimicrobial protection to eliminate up to 99% of bacteria growth, wireless charging compatibility, a flat bottom that allows the case to stand on its own, and a sleek, pocket-friendly design to minimize drops.
More AirPods Case Protection Coming Soon
If the AirPods Pro isn't the right wireless earbuds for you, keep an eye on new cases and devices coming soon. We're already planning to make the Podium case for the new AirPods "3" when it's released later this year, along with two other AirPods cases that offer the same patent-pending latch but with a more minimalist design and at a lower price. We're always looking for ways to expand our smart tech protection.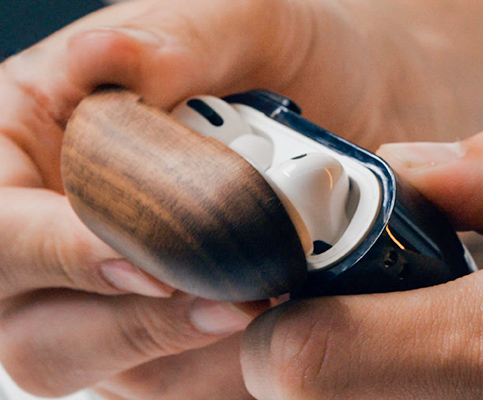 BodyGuardz: Protection for a Life Worth Living
BodyGuardz has long been a trusted protector of your most treasured tech. Protection, however, is about so much more than just defending your device—to us, it means constantly innovating and pushing the envelope to develop new, groundbreaking ways to keep your tech (and more) safe from damage or loss. From wrist lanyards to premium impact protection, from a great textured feel to pocket friendly design, each of our phone cases has something unique to offer.

One of our sister brands, Lander, specializes in rugged, outdoor phone cases. Our other sister brand, MOXYO, offers Zigi Band lanyards that attach to any smartphone case for convenient carrying. App-controlled Smart Home devices (like the Emergency Hub and 360° Camera) monitor, alert, and protect you, your family, and your home in the face of unexpected danger.

When it comes to protection, the Podium case joins some pretty elite company to provide your AirPods Pro with protection for a life worth living.