Discover Stylish, Protective Cases for the New AirPods 3rd Generation
Oct 22, 2021
If you've been looking forward to the release of the new AirPods, BodyGuardz shares your excitement. We've been busy designing AirPods 3rd Gen cases with a new, innovative pivot latch and other protective, stylish features. With this patent-pending technology, these cases stay closed even when dropped but are easy to open with the flick of a finger. You shouldn't have to choose between total protection or convenience when it comes to your AirPods.

We've created three amazing case designs that speak to individual priorities: best value, sporty style, and high-end sustainability. You're bound to find the case that's right for you with BodyGuardz. In each design, you'll have 360° drop protection, PureGuard™ antimicrobial treatment, wireless charging compatibility, and a detachable lanyard so you never have to worry about losing your new AirPods when you're out and about.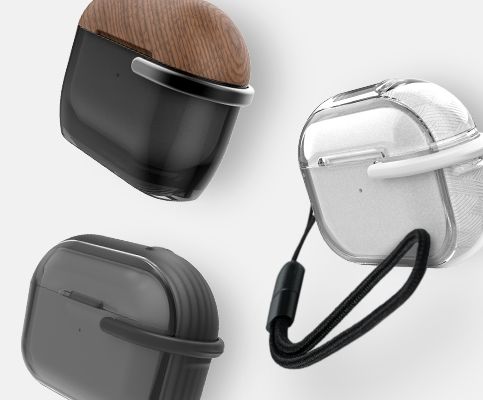 How to Choose Your AirPods 3rd Gen Case
• Link Case: You want to make sure your new AirPods are protected, but not necessarily at any price. This $24.95 case offers the best value and all the protection you should need for the lifetime of your AirPods. By using the lanyard, you can protect your investment, not just from scratches and other damage, but from getting lost as well. Available in smoke/black with a frosted outer edge that creates a subtle, two-tone effect.

• Rival Case: What makes the Rival different from our other cases is the sporty look. The outer case is smooth and clear, while the edges are reinforced with polycarbonate for even stronger, scratch-resistant performance. With a solid white pivot latch and bumper in a clear, outer casing, Rival creates a sleek look with unmatched protection for your AirPods, priced at $34.95.

• Podium Case: While all of our AirPods 3rd Gen cases have lanyards made from recycled ocean plastic and packaging that is 100% recyclable, the Podium goes even further. Made from premium, sustainable materials, including walnut and plant-based plastics, this case is 100% sustainable. You'll still enjoy strong drop protection, antimicrobial protection, and a flat base stand. It's no wonder this case won the Red Dot award for product design. Keep your workspace tidy and make your AirPods even easier to grab with the Podium case, available in black-and-dark-walnut for $44.95.
All Cases from BodyGuardz
AirPods cases with an innovative pivot latch are just the latest product that speaks to our mission: Protection for a life worth living™. This mission extends to phone cases, screen protectors, and smart home devices. Get started by shopping for your new AirPods case then come back to BodyGuardz for better phone, tablet, and living space protection.